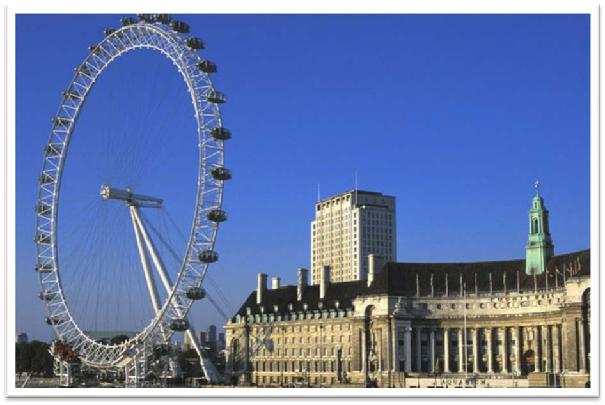 The London Eye
The London Eye is one of London's newest landmarks specially-built to open the 21st century, although it was not open for the New Millennium celebrations as planned.
At 135 metres, it is the tallest wheel of its kind and sits on the South Bank of the River Thames, opposite the Houses of Parliament.
Rotating at a speed of 1 mph, it takes 30 minutes to go through a complete 360°.The Eye has provoked other countries to challenge its size. There are plans to build a 175m wheel on the Las Vegas Strip and the Chinese have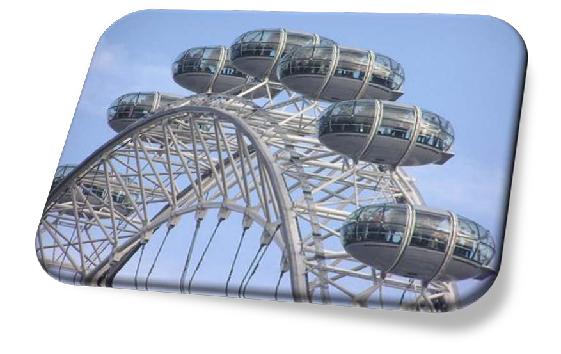 countered this bid with plans for a 200m wheel in Shanghai.
Closest View of London Eye
When erected in 1999 it was the tallest Ferris wheel in the world, until surpassed first by the 160 m (520 ft) Star of Nanchang in 2006 and then the 165 m (541 ft) Singapore Flyer in 2008. Supported by an A-frame on one side only, unlike the taller Nanchang and Singapore wheels, the Eye is described by its operators as "the world's tallest cantilevered observation wheel".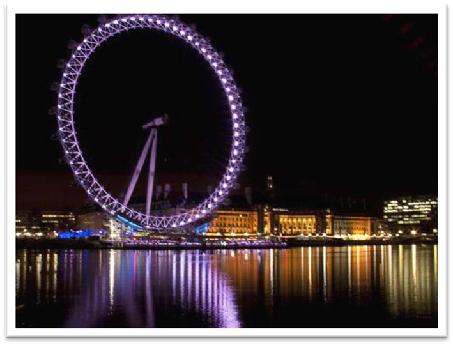 The wheel was constructed in sections which were floated up the Thames on barges and assembled lying flat on piled platforms in the river. Once the wheel was complete it was lifted into an upright position by a strand jack system made by Enerpac. It was first raised at 2 degrees per hour until it reached 65 degrees, then left in that position for a week while engineers prepared for the second phase of the lift.
The observation wheel turns slow enough for people to embark while it is moving. A complete turn takes about 30 minutes. Thanks to the construction of the glass capsules on the outer side of the rim, the passengers have a great 360° view over London. Contact Details
Address:
Riverside Building,
County Hall,
Westminster Bridge Road,
London, SE1 7PB
Telephone: 0871 781 3000
Email: corporate.event@londoneye.com
Prices:
Adults: £18.50
Free for children under 4 years.
10% discount to groups of 15 or more paying guests
Opening Timings:
1 October-31 March: 10:00 - 20:30 daily.
1 April-30 June: 10:00 - 21:00 daily.
1 July-30 September: 10:00 - 21:30 daily.
Note :Closed on Christmas