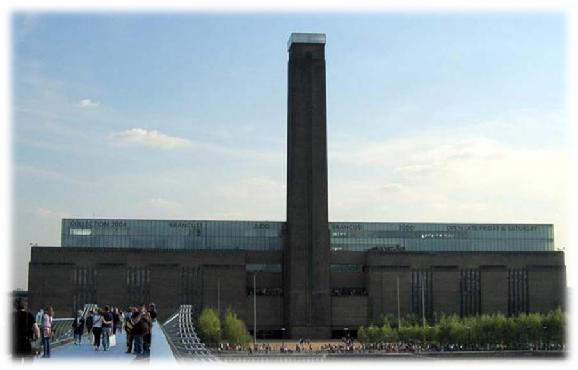 Tate Modern
Tate Modern is a modern art gallery located in London, England. It is Britain's national gallery of international modern art and forms part of theTate group (together with Tate Britain, Tate Liverpool, Tate St Ives and Tate Online). It is the most-visited modern art gallery in the world, with around 4.7 million visitors per year. It is based in the former Bankside Power Station, in the Bankside area ofCentral London.
The striking architecture of the building is reminiscent of one it's original designer's other works; as well as Bankside, Sir Giles Englebert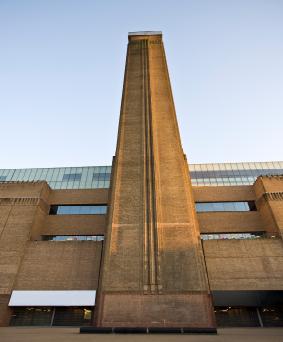 Scott also designed Battersea Power Station and the classic red phone box.
Two wings of the main building are used to stage the major temporary exhibitions for which an entry fee is charged. These exhibitions normally run for three or four months. When they were located on a single floor, the two exhibition areas could be combined to host a single exhibition. This was done for the Gilbert and George retrospective due to the size and number of the works. Currently the two wings used are on levels 2 and 3. It is not known if this arrangement is permanent. Each major exhibition has a dedicated mini-shop selling books and merchandise relevant to the exhibition.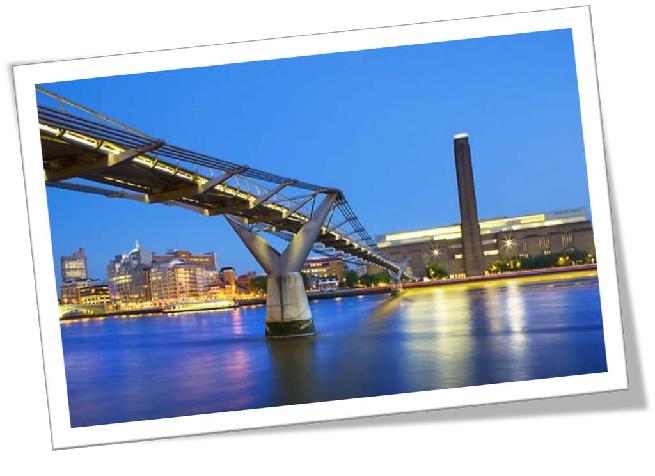 Night Sight
A ten storey tower is being built above the oil tanks. It is scheduled to open in 2016.
The design, also designed by Herzog & de Meuron, has been controversial. It was originally designed as a glass stepped pyramid, or zigurat, but this was amended to incorporate a sloping façade in brick latticework (to match the original power-station building after the feedback on the original design was unfavourable.

Contact Details
Address:
Bankside
London
SE1 9TG
Telephone: +44 (0)20 7323 8000
Email: visiting.modern@tate.org.uk
Prices:
Entrance for the gallery is free, charges for events/special exhibitions.
Opening Timings:
Sunday to Thursday : 10.00 to 18.00 Friday and Saturday : 10.00 to 22.00
Tate Modern is open as normal on bank holidays. It closes on 24, 25 and 26 December but opens on 1 January.